ESOPs Are Subject To Special Government Rules, and Require Special Expertise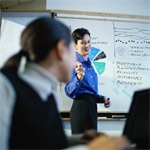 ESOP legal services aren't your average tax law consultation. The ESOP has special tax benefits for business owners and employees, but it is also subject to special regulations, which means that without experience in the ESOP field, even a competent corporate tax lawyer would be unable to offer qualified counsel.
Employee Stock Ownership Plans are subject to a number of record-keeping, disclosure and fiduciary requirements, such as:
A plan description, where each participant in the ESOP (owners, managers, employee stockholders) must receive a document that describes and explains the plan and its implications for participants;
An annual report, available to all participants, that details the performance of the ESOP;
Benefits statements provided to each participant, annually, upon termination, or upon request, that describe the state of the participant's ESOP account, including share value and other financial information;
Access to all ESOP documents, such as the plan document, annual reports & financial summaries.
These are just some of the rights that ESOP participants are entitled to under federal law.
Failure to fulfill any of these requirements, as well as failure on part of ESOP trustees to uphold their fiduciary duty, whether by harboring conflict of interest or through mismanagement of funds, exposes the ESOP company to lawsuits by employee stockholders. We have seen this scenario play out many times, where bad practices and breaches of trustee responsibility lead to lawsuits that can hinder and hobble even prosperous companies. This is why it's key for an ESOP company to get the best ESOP consultants, whose legal advice will allow it to avoid legal action whenever possible, and, if suit is brought against the company, to be prepared for it and receive expert litigation support at every stage of the lawsuit.
ESOPMarketplace.com features an extensive and selective listing of ESOP Administrators, Lawyers and many other experts who are well-versed in every aspect of ESOPs and corporate governance, such as executive pay, securities, private equity transactions, mergers & acquisitions and more. Whether your company is thinking of transitioning to an ESOP, or simply needs help with everyday governance issues, ESOPMarketplace.com will prove to be invaluable to you.
The ESOP advisors and lawyers listed on ESOP Marketplace are experts at dealing with government and employee action, as well as defending valuations in case of a Labor Department challenge. Valuation is as much an art as it is a science, and in case of a government audit or lawsuit, a poor legal strategy in defense of an ESOP valuation can cost a company huge sums of money in fines. This is why it's crucial to be represented by the best legal counsel available.
Our ESOP Lawyers are specialists in consultations at every stage of ESOP implementation.
When it comes to ESOP litigation and consultations, not every law firm knows what its doing. Make sure you've got experts on your side: choose ESOP Marketplace for your ESOP Lawyers.
Our ESOP Lawyers have offices in the following cities throughout the United States, including your Hometown.
New York
Los Angeles
Chicago
Philadelphia
Dallas-Ft. Worth
San Francisco-Oakland-San Jose
Boston
Atlanta
Washington, DC
Houston
Detroit
Phoenix
Tampa-St. Petersburg
Seattle-Tacoma
Minneapolis-St. Paul
Miami-Ft.Lauderdale
Cleveland-Akron
Denver
Orlando-Daytona Beach-Melbourne
Sacramento-Stockton-Modesto
St. Louis
Portland, OR
Pittsburgh
Charlotte, NC
Indianapolis
Baltimore
Raleigh-Durham
San Diego
Nashville
Hartford-New Haven
Kansas City
Columbus, OH
Salt Lake City
Cincinnati
Milwaukee
Greenville-Spartanburg-Asheville-Anderson
San Antonio
West Palm Beach-Ft. Pierce
Grand Rapids-Kalamazoo-Battle Creek
Birmingham
Harrisburg-Lancaster-Lebanon-York
Las Vegas
Norfolk-Portsmouth-Newport News
Albuquerque-Santa Fe
Oklahoma City
Greensboro-High Point-Winston-Salem
Jacksonville, FL
Memphis
Austin
Louisville
Buffalo
Providence-New Bedford
New Orleans
Wilkes Barre-Scranton
Fresno-Visalia
Little Rock-Pine Bluff
Albany-Schenectady-Troy
Richmond-Petersburg
Knoxville
Mobile-Pensacola
Tulsa
Ft. Myers-Naples
Lexington
Dayton
Charleston-Huntington
Flint-Saginaw-Bay City
Roanoke-Lynchburg
Tucson
Wichita-Hutchinson
Green Bay-Appleton
Des Moines-Ames
Honolulu
Toledo
Springfield, MO
Spokane
Omaha
Columbia, SC
Rochester, NY
Syracuse
Huntsville-Decatur
Champaign-Springfield-Decatur
Shreveport
Madison
Chattanooga
Harlingen-Weslaco-Brownsville-McAllen
Cedar Rapids-Waterloo-Iowa City-Dubuque
South Bend-Elkhart
Jackson, MS
Colorado Springs-Pueblo
Tri-Cities, TN-NC-VA
Burlington-Plattsburgh
Waco-Temple-Bryan
Baton Rouge
Savannah
Davenport-Rock Island-Moline
El Paso
Charleston, SC
Ft. Smith-Fayetteville-Springdale-Rogers
Portland-Auburn
Paducah-Cape Girardeau-Harrisburg